Advanced Tube Inspection ET, RFET, IRIS, MFL & NFT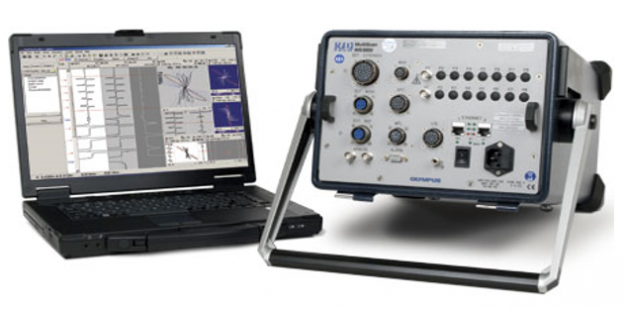 Westech Inspection, Inc. provides a complete tube inspection service with our MultiScan MS5800. This advanced tube inspection system has bundled four inspection technologies into a single unit.  Eddy current, Remote Field ET, IRIS, and MFL.
The ET & RFT is a high-speed, multi-channel, multi-frequency scanning system with advanced reporting and tube sheet mapping software.
The IRIS system is a single channel ultrasonic scanning system with the ability to inspection tubes in a wide range of diameters.
Two Major Advantages
We always have the right system for the job.
We can use a second tube inspection technology to back up anything found during the primary inspection.
Eddy Current (ECT)
Eddy Current is a cost effective and reliable way to
inspect tubing.
Inspect non-ferromagnetic tube and materials.
Condensers, feed water heaters, air conditioners,
chillers, and other heat exchangers
Detection and sizing of metal discontinuities such as
corrosion, erosion, tube-to-tube wear, pitting, fretting,
cracks, etc.
Multi-frequency inspection with mixing and filtering
capabilities.
Data is recorded and archived which will allow you to
track the corrosion rate for each tube.
Remote Field Testing (RFT)
Full wall inspection of ferromagnetic tubes
Used for the detection and sizing of wall thinning caused by corrosion, erosion, wear, pitting and baffle cuts.
Used to inspect boilers, feed water heaters, air coolers,and carbon steel heat exchangers.
Magnetic Flux Leakage (MFL)
Inspection technique suitable for wall-loss detection and measurement of sharp defects, such as pitting, grooving,
and circumferential cracks.
Applicable to ferromagnetic tubing
Effective for testing aluminum-finned carbon steel tubes because the magnetic field is mostly unaffected by the fins.
A good Back-up inspection to Remote Field Testing.
Near Field Testing (NFT)
Inside diameter testing only
Detect corrosion, erosion and pitting inside carbon steel tubing
Unaffected by external structures such as tubesheets and support plates
Used to inspect Fin Fans tube heat exchangers
Internal Rotating Inspection System (IRIS)
IRIS is an ultrasonic technique used for the inspection of a
wide range of materials, including both non-ferromagnetic and
ferromagnetic tubing.
Allows for the detection and sizing of wall loss as a result of corrosion, erosion, tube-to-tube wear, pitting, fretting,
cracking and baffle cuts.
Focused ultrasonic probe and a rotating mirror to produce
a helical scan.
Ultrasound is reflected from the tube ID and OD and the
time difference is used to calculate the thickness.
IRIS is a great backup and verification tool for the other
tube inspection techniques
IRIS data to be presented as a B, C, or D-scan image.
Westech technicians are qualified and certified in accordance with the SNT-TC-1A guidelines and can provide on-site or in-house data interpretation. After data acquisition and analysis are complete, a comprehensive report with a color coded tube sheet map will be issued.